2009-04-06(Mon)
About the curry rice in Persona 4.
Yeah. That was horrible. Oh, it doesn't mean I wanna talk about taste of that curry. Maybe some of you must know that Japanese love "curry rice".(Strictly speaking, Japanese curry is quite different from original curry) Oddly enough, curry rice is the most famous camping food in Japan.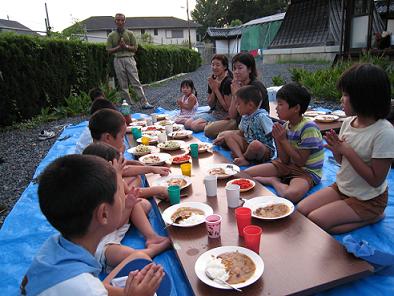 Though we do BBQ sometimes, many people cook a curry rice when they go camping.
I too made a curry rice in high school campout and other campings.
Why?
I didn't know so I googled it. Then I found there are some reasons.
1. To prevent food poisoning, the food should be heated.
2. The food need to be loved by many people.(So it's not wrong that Japanese love curry.)
3. We don't need other kinds of foods because Japanese curry rice uses rice, meats and vegetables.
4. We don't need many dishes because of 3.
5. Way to cook curry rice is easy (even to children). And it doesn't need a long time.
6. We can make large quantities of curry rice at a time so it's very suitable to big groups.
Actually Japanese navy is the one who invented Japanese curry rice.
Discharged navy men seemed to spread this food.
Even now, navy men eat curry rice on every Friday. It's not a joke! This is their habit.