2011-04-16(Sat)
Pastries in Nichijou.
This work is very mysterious in spite of the title called Nichijou(ordinary).
I watched the anime episode 2 and I noticed there is an weird pastry.
Everybody knows this is a roll cake.
This is Baumkuchen. A german pastry.
I quote explanation from wikipedia.
Baumkuchen in JapanBaumkuchen is one of the most popular pastries in Japan, where it is called バウムクーヘン (baumukūhen), or often erroneously, バームクーヘン (bāmukūhen). It is a popular return present in Japan for wedding guests because of its ring shape.
It was first introduced to Japan by the German Karl Joseph Wilhelm Juchheim. Juchheim was in the Chinese city of Tsingtao during World War I and when the war ended the Japanese Army removed him and his wife to Japan.[7] Juchheim started making and selling the traditional confection at a German exhibition in Hiroshima in 1919. Continued success allowed him to move to Yokohama and open a bakery-store, but it was destroyed in the Great Kanto Earthquake of 1923, thus forcing him to move his operations to Kobe, where he stayed until the end of World War II. Some years later, his wife returned to help a Japanese company open a chain of bakeries under the Juchheim name that further helped spread Baumkuchen's popularity in Japan and is still in operation.
But this is not my point.
The stuff I don't know is here.
What is this?
I googled it.
"It's
Amashoku
a kind of baked sweets but can be called bread or pastry. Some people (mainly in West) know it very well though it's not popular in East."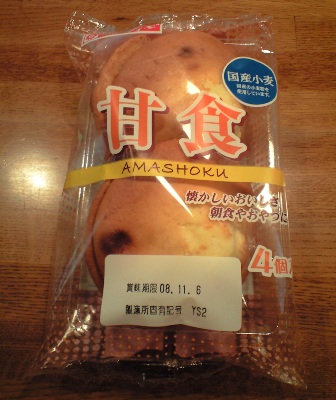 Hmmmmm...
You shouldn't think that Japanese know Japanese sweets well!