2009-12-20(Sun)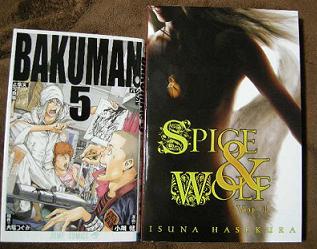 Yes. "Spice And Wolf" English version finally arrived.
(Left one? It's just a comic I bought today.)
Recent strong Yen helped my payment a little bit.
I'm not native English speaker so it's hard to understand all sentences. But it's amusing to read my favorite novel by English. By the way, there is something I want to know very much.
IS Holo speaking standard English?
In original version, Holo uses special (old?) way to speak. For example, she calls herself
Wacchi
but not
watashi
(both means "I"). As far as I read, I can't find unique style from her speaking. If you are a native English speaker and have ever read it, please tell me your impression.
Spice and Wolf, Vol. 1